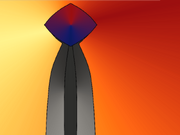 The citidel is the most powerful buildable building to date, a massive tower with insane plated armor, and a energy crystal on top, the crystal itself is indistructible and it is capable of defending, building, healing and creating units instantaniously, however doing multiple things reduces efficiency, so if it it ONLY making troops it will make them faster than if it is making troops and attacking.
It is unknown how it is powered, it cannot be captured by enemys however.
Citadel

Health

VERY MASSIVE

Cost

HUGE amounts

Damage

Very high (if ONLY attacking) less if doing other things also.

Fire rate

Medium

Special

Can heal, build smaller buildings, create troops and fire a laser at nearby enemys.