Rippers are very powerful air fighters, using powerful pulse weaponry it does extra damage vs buildings.
There are 3 weapons, 2 missiles and 1 arc:
Arc: The arc can fire omniderectionally, the plasma bubbles fly in a arc to where it was aimed.
Missile: It fires heatseaking plasma bubbles from the sides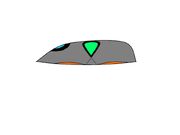 Ripper

Damage

Low, Medium vs buildings

Fire rate

Medium (missile) Fast/Very fast (Arc)

Speed

Fast

Cost

High

Health

Medium/High

Special

Very accurate, multiple weapons.